Product Description
Description
Feifan is the most earliest factory to apply various architectural design to the in in China is experienced producing variouse architectural design of A class fire retardant and moisture proof wall panels for wall system. It is environment, has no asbestos, no formaldehyde, no benzene, the surface are coating with solid color, marble color or wood textures. The features: * Unlimited colors: solid color, marble texture, wood texture. * 100% non of asbestos, formaldehyde, benzene, toxic etc * Moisture resistant, waterproof, A class fireproof, not rot, termite proof * 2440*1220*3 to 12 mm, and can be cut to size * Large slab formats help to reduce unattractive joint lines
Feifan Building Materials Co., Ltd. is a most earliest factory in China to apply various architectural design onto the inorganic board and panels, such as fiber cement board, no asbestos fiber reinforced calcium silicate board, Magnesium oxide board which short for MgO board. The architectural surface coated with all solid color, marble stone color or pattern, wooden grain color or pattern, metallic colors. It is technically controlled and innovative in environmental protection. Feifan has passed the national ISO9001:2008 certification and has become a government-recommended brand. The certified green products have been widely recognized by people from China and global around.
Feifan Building Materials uses 100% non-asbestos calcium silicate board or MgO sheet as the base core material, and special veneer is applied to the surface treatment to make it have excellent fire rate protection, durable, waterproof, moisture proof, not rot and termite proof. Absolutely the product is free of asbestos, no formaldehyde, nor benzene, and no harmful radioactive elements, to ensure the room or space with fresh and clean air, makes the living room, office, shopping mall or public area more comfortable.
Feifan wall board, wall panels, wall cladding has excellent good fire performance, does not burn in case of fire, does not burn at 800 °C, has no fire at 1200 °C, achieves the highest fire-proof rate and non-combustible grade A ( A grade is the best fire rate according the standard), and installed on the partition system of light steel structure keel, the fire limit reaches more than 3 hours.
Feifan antibacterial wall covering panel is a unique panel fully designed with the purification hospital cleanroom health-care industry in mind. As a kind of green and environmental protective material which has the features of non-inflammability, no formaldehyde release and easy cleaning, this product provides customers a green, safe, comfortable and modernized medical room. With a large format at size 1220*2440*3 to 12 mm, equal to 4*8 feet, special size could be 1220*3000 mm per sheet, less unattractive joint lines. The panels are custom made for your cleanroom projects, pre-engineered and pre-fabricated to eliminate any cutting and buffing during the on-side installation.
Features
1) .Unlimited colors: all solid color accepted, RAL, NCS, PANTON palette, marble stone texture, wood grain texture.
2) 100% non of asbestos, no formaldehyde, no benzene, toxic etc
3) Moisture resistant, waterproof, A2-d0 class fire resistant, not rot, termite proof, antibacterial, mould proof, mildew proof.
4) 2440*1220*6 to 12 mm, and can be cut to size
5) Large slab formats help to reduce unattractive joint lines
6) Super peeling strength
7). Perfect cold resistance performance
8). Excellent surface flatness and smoothness
9). Superior weather, corrosion, pollutant resistance
10). Superior impact resistance
11). Easy to maintain.
Product Structure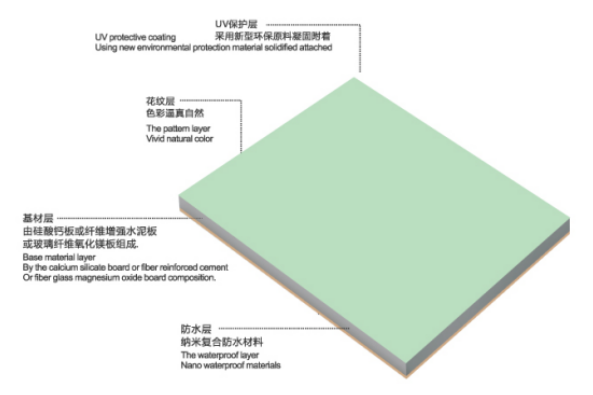 Product Advantages

Sample colors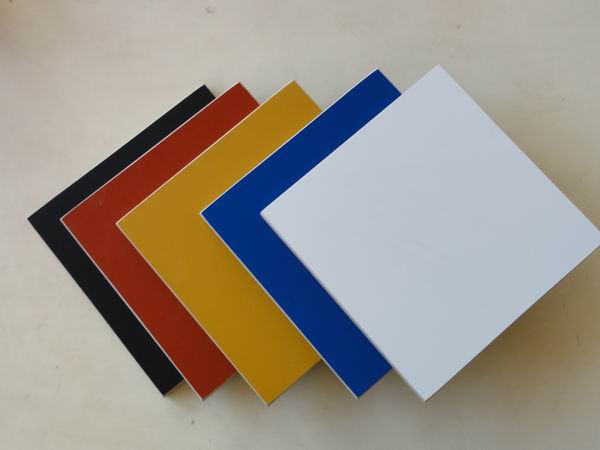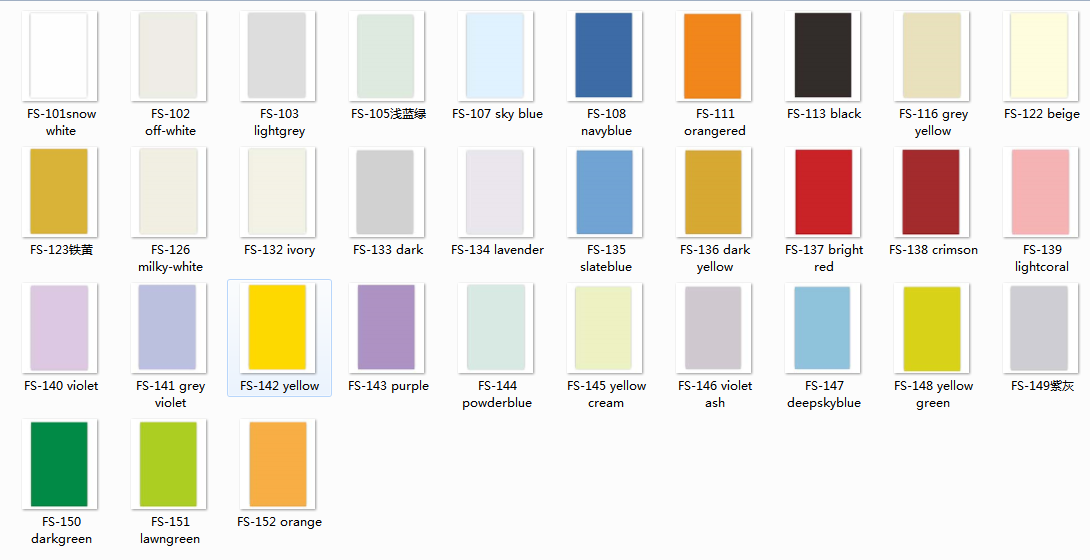 Feifan wall panel application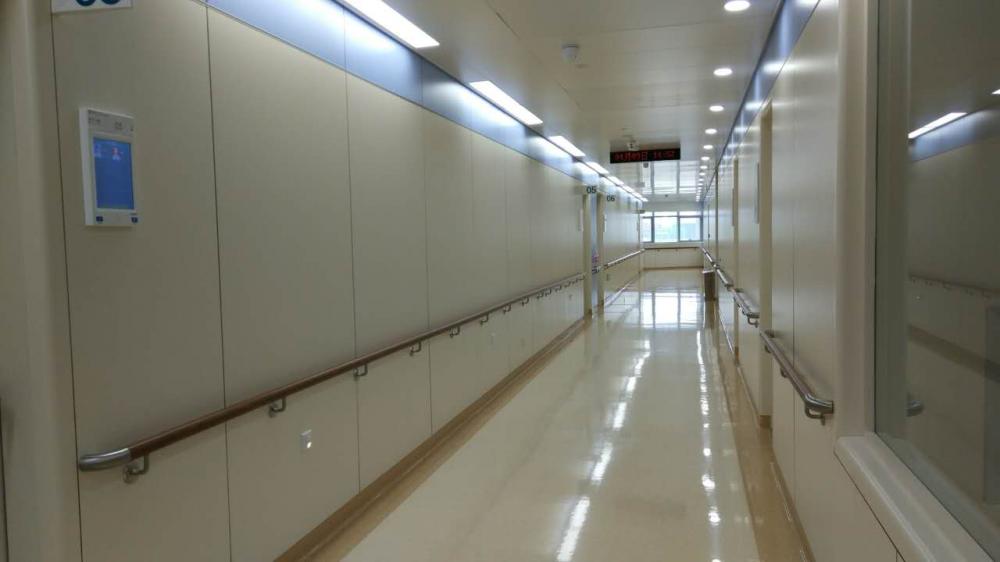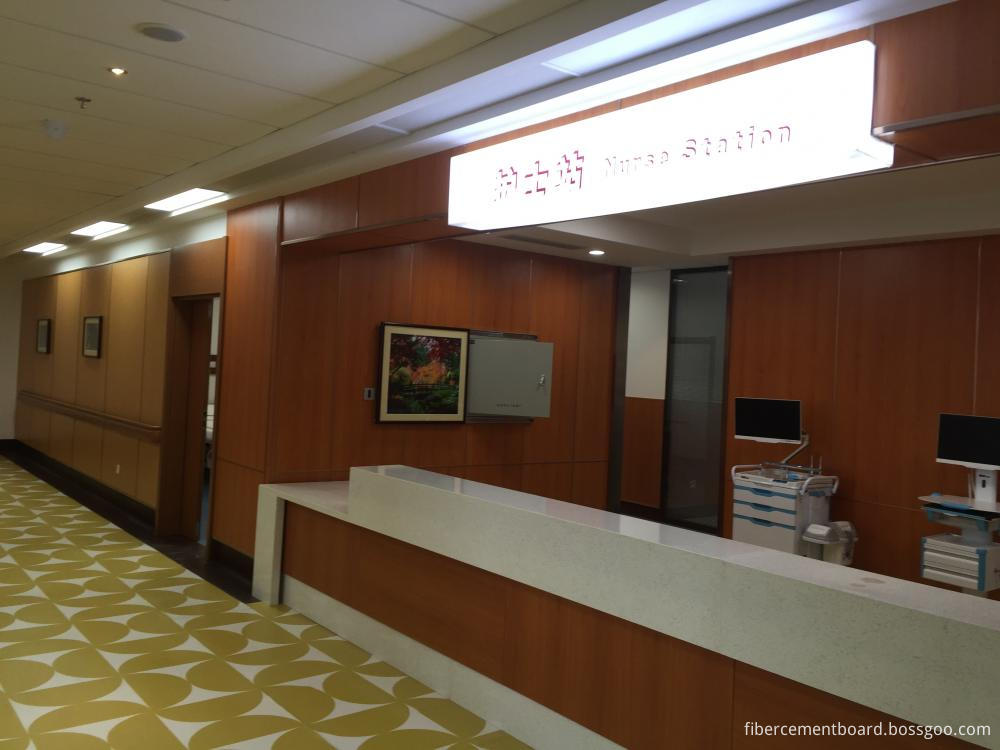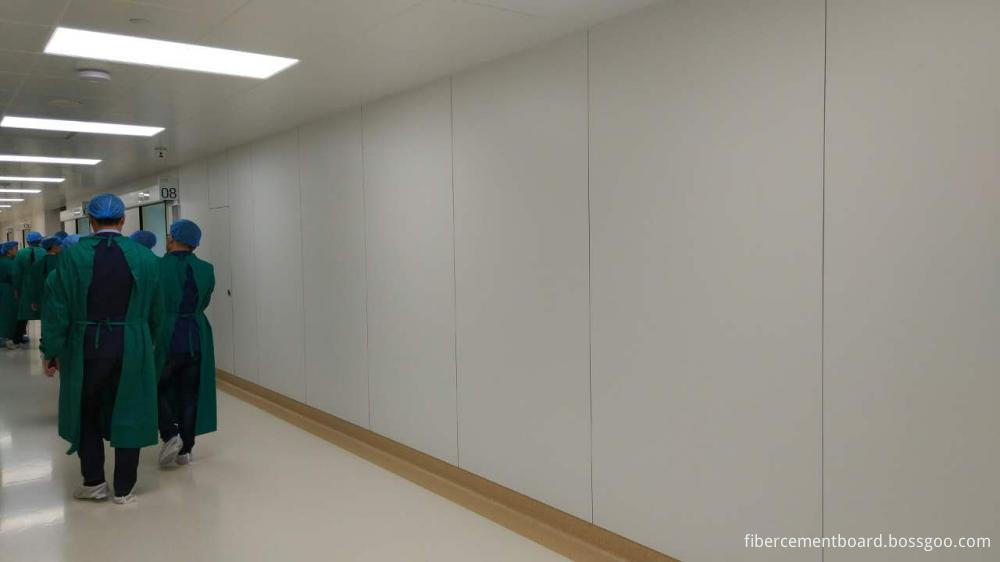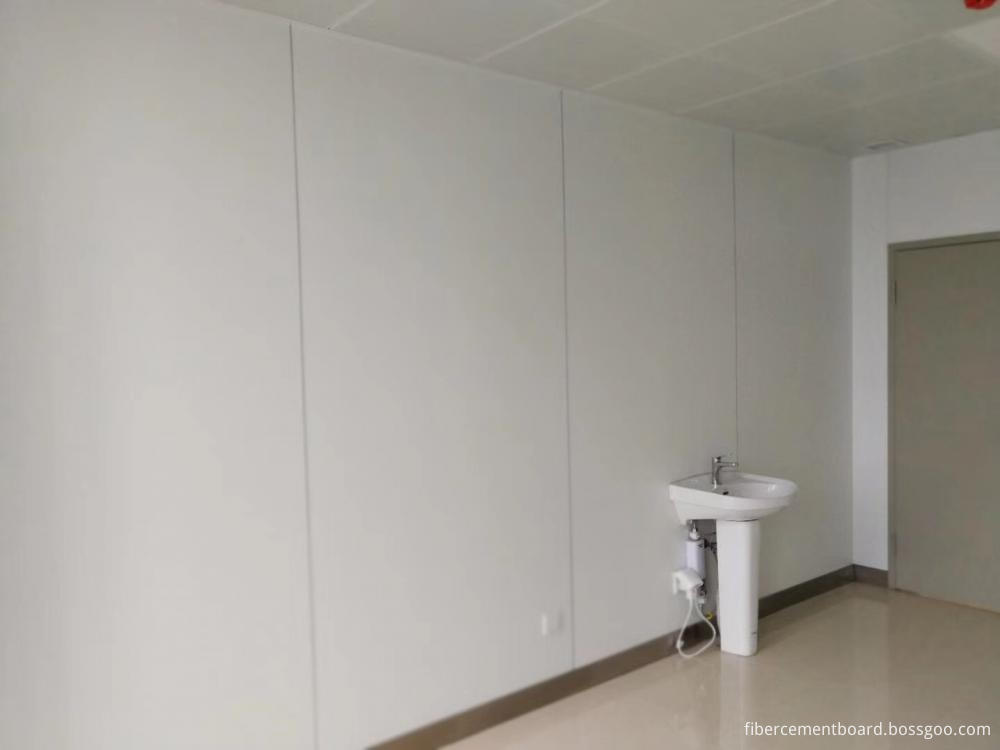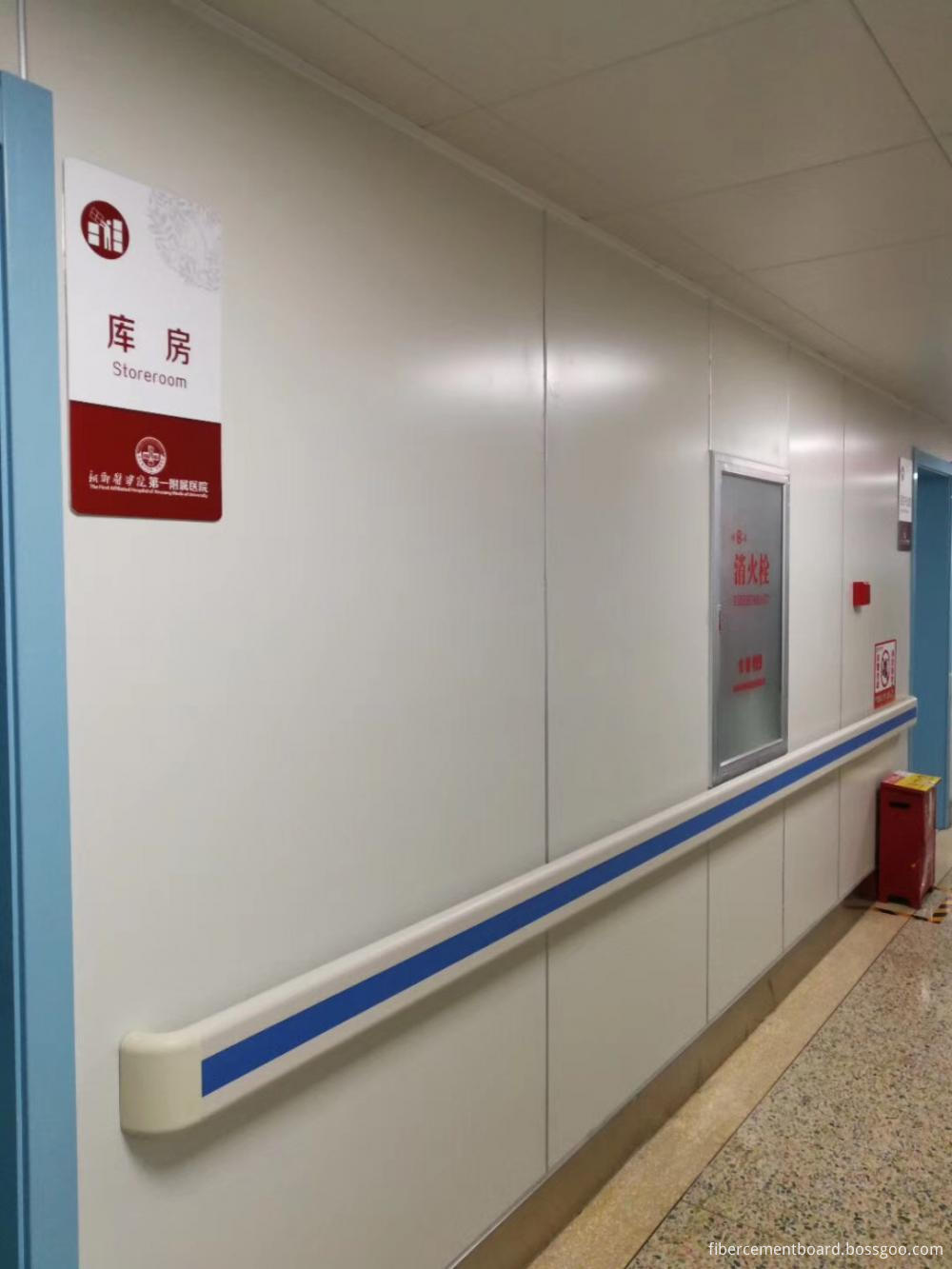 Introduction

Feifan Industrial came into the pre-painted decorative wall panels since 2004, more than 15 years ago. Feifan is the earliest factory in China to apply the pre-painted fiber reinforced calcium silicate board and magnesium oxide board into wall decorative field. The core board is an environmentally friendly, high strength non-structural wall and ceiling panel. Panels are manufactured using fiber cement calcium silicate board or magnesium oxide board, MgO board as substrate board and solid color, marble stone texture colors, wood grain colors wearable UV coating on the surface. The panels contain no asbestos, no VOCs or toxins, no formaldehyde, anti bacteria, easy to install and safe to use. It is very light, with less than 10 kg per sheet, each sheet full size is 1220*2440*6 mm, by dry wall installation, it can be quick and easy fixed on the wall.

Feifan FS series solid color fiber cement calcium silicate board, with architectural colors of RAL, NCS and PANTON palettes, it is ideal for architect or designer to make the space elegance and luxury in ares of interior and exterior wall system, wall cladding or wall partition, such as cleanroom wall system, hospital, lab, laboratory, public area like stations, airport, tunnels, metro platform, shopping mall, school, office, home, bathrooms, showers,laundries, kitchens etc.
Installation methods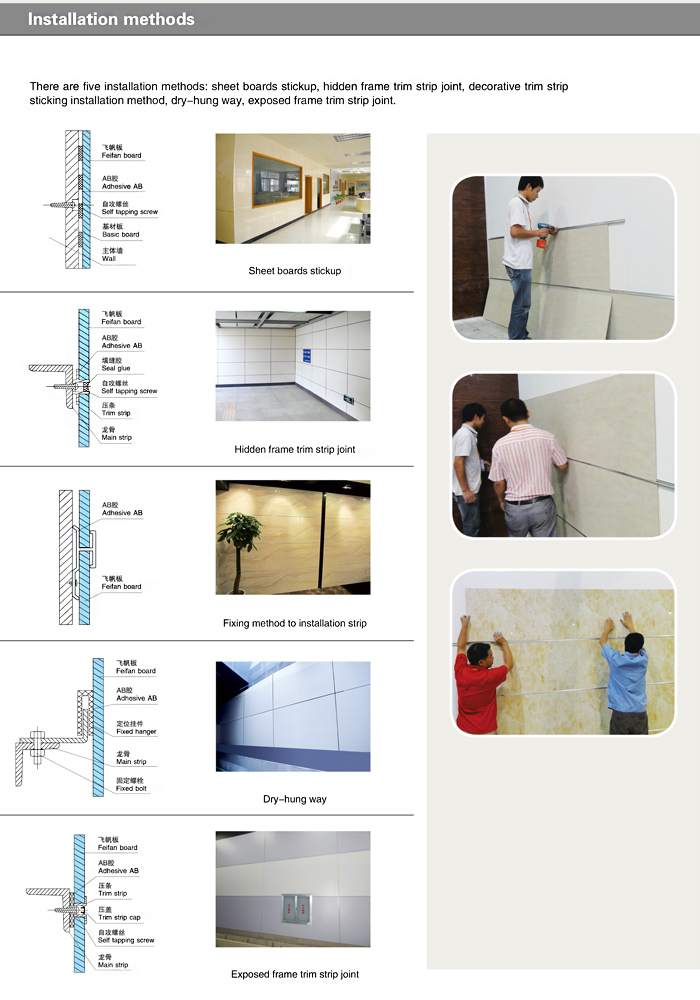 Installation accessories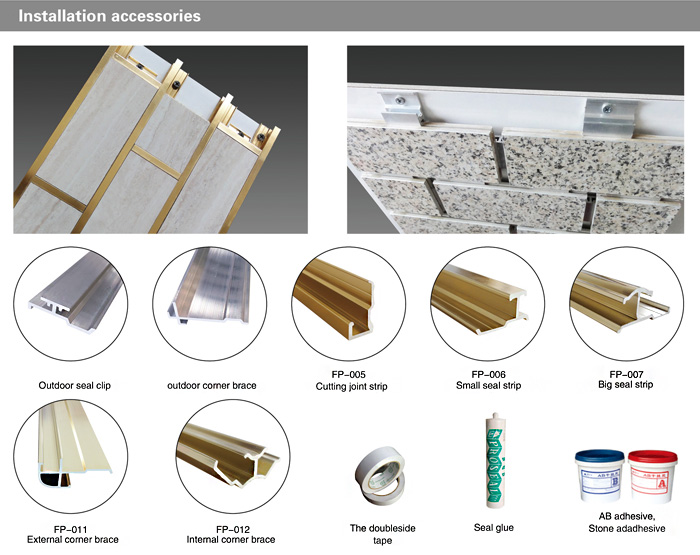 Packing on container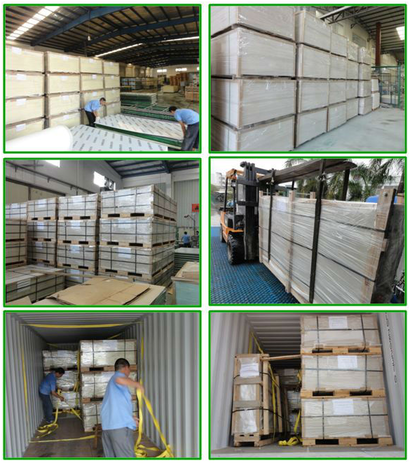 FAQ:
Q1: Are you a Manufacture Factory?
Answer: Yes. We are the direct Manufacture Factory, and my factory is experienced in producing fireproof wall panels for ceiling and wall system since year of 2004.
Q2: Do you have stock products to sell?
Answer: No, we produce products accorded to the customer`s order requirement. It also means colors or design, material, density, size,quantity will depend on what your need.OEM orders always be welcomed.
Q3: Does the plastic protect film can be printed a LOGO?
Answer: Yes, we can print the logo as your requirement .
Q4: What advantages do you have?
A: We are the first Manufacturer in this kind of pre-painted fiber cement wall panels in China, we have much of acknowledge, skills and experience in the manufacture, we could offer you the most competitive price.
B:We are the Factory, and we have the ability to carry out production schedule for punctual delivery.
C:We could make any size according to your requirements.
D: We can provide free samples for quality evaluation
Our Services
1. OEM service is available.
2. Fast producing time.
3. Reply promptly within 24 hours, at your service.
Free samples are available.