Product Description
Description
Model: FMT-1069 Wooden grain HPL fireproof wall board for office, faux wood veneer high pressure laminate wall panels for dry wall system.
Full sheet size: 1200*2400*7 to 12 mm, light weight and durable, generally 7mm thickness is most popular, less than 10 kg per square meter at thickness 7mm.
High Pressure Laminate (HPL) is composed of a resin impregnated kraft paper, a decorative paper and a clear melamine overlay. These sheets are bonded at high pressures and temperatures. The sheets are bonded to substrates like non asbestos fiber calcium silicate board, fiber cement board, fiber glass magnesium oxide board , also known for short name MgO board. we offer a diverse arrange of high-pressure laminate wall panels to mix and match textures, patterns and finishes to achieve the perfect look. From trending wood grains veneers to marble stone patter, graphic patterns, accept all clean and colorful solid color, Feifan decorative HPL panels provide innumerable and versatile design options for your drywall system wall cladding, wall covering, wall protection.
Features
1) .Unlimited colors: all solid color accepted, RAL, NCS, PANTON palette, marble stone texture, wood grain texture.
2) 100% non of asbestos, no formaldehyde, no benzene, toxic etc
3) Moisture resistant, waterproof, A2-d0 class fire resistant, not rot, termite proof
4) 2440*1220*6 to 12 mm, and can be cut to size
5) Large slab formats help to reduce unattractive joint lines
6) Super peeling strength
7). Perfect cold resistance performance
8). Excellent surface flatness and smoothness
9). Superior weather, corrosion, pollutant resistance
10). Superior impact resistance
11). Easy to maintain.
Product Structure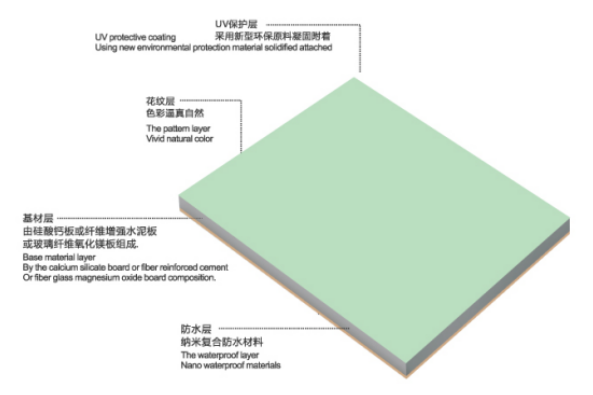 Product Advantages

Feifan wall panel application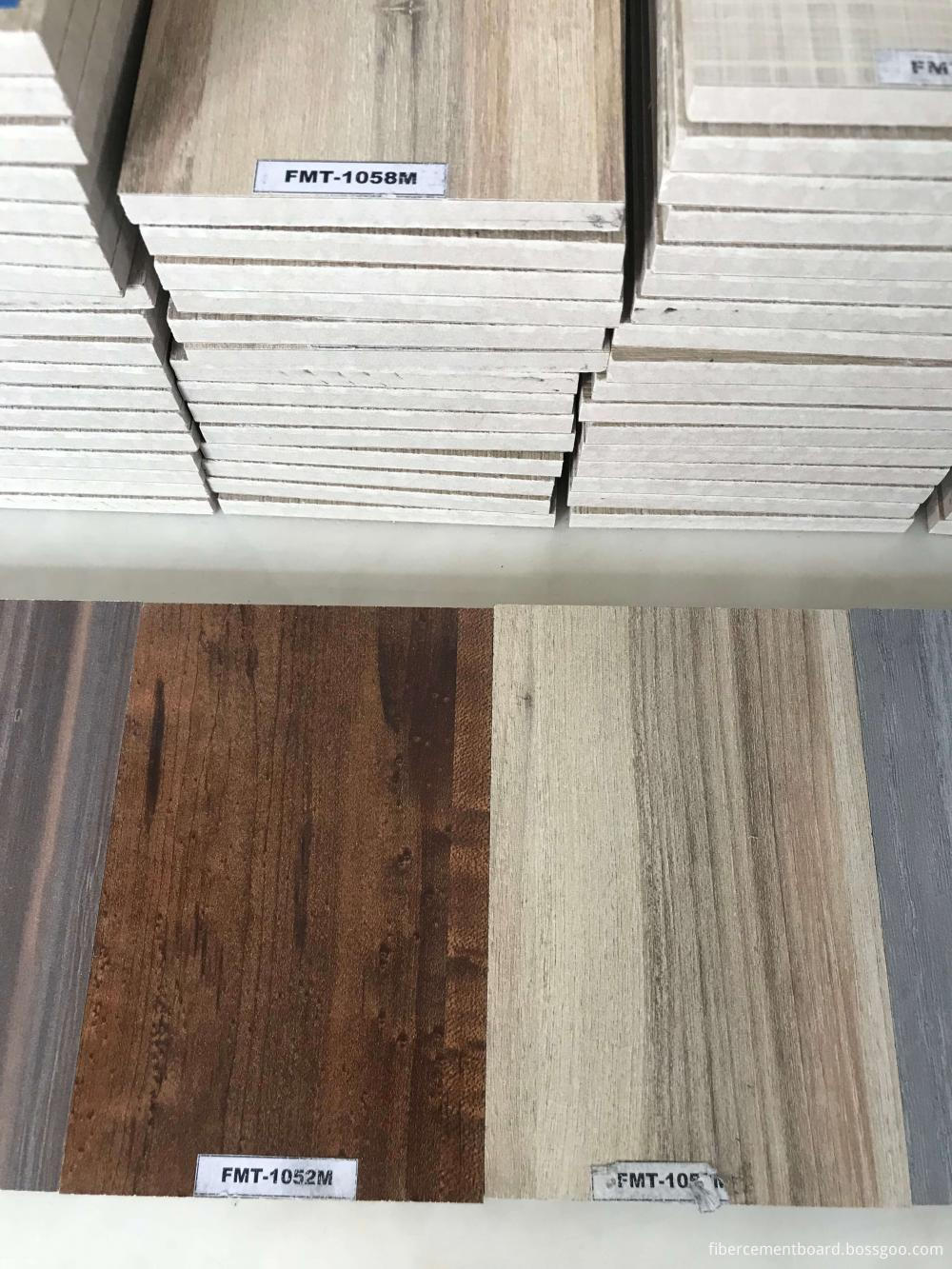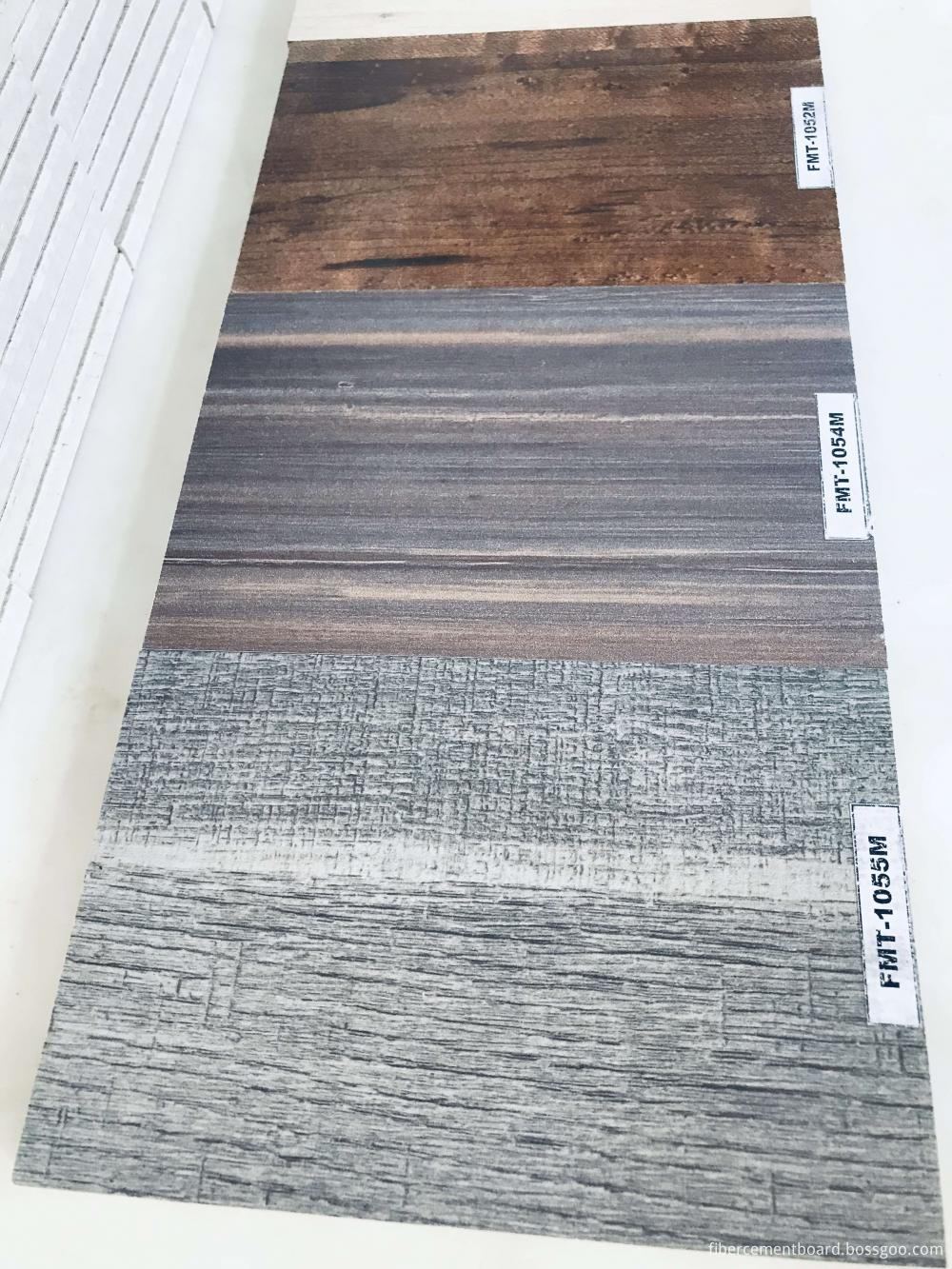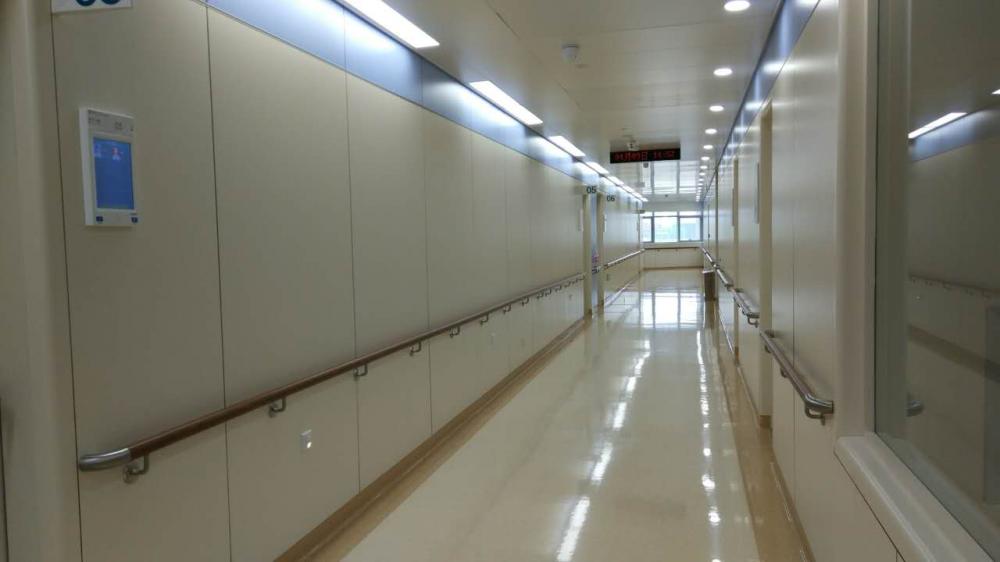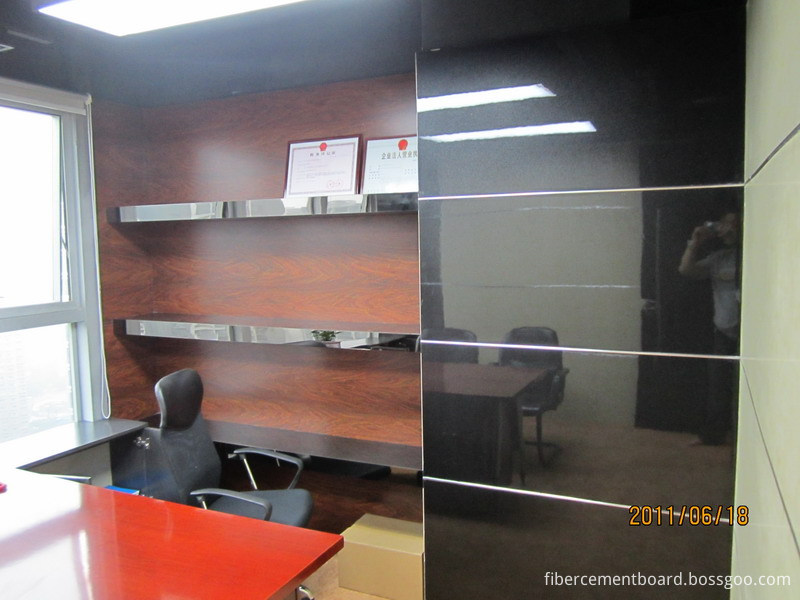 Introduction

Feifan Industrial came into the pre-painted decorative wall panels since 2004, more than 15 years ago. Feifan is the earliest factory in China to apply the pre-painted fiber reinforced calcium silicate board and magnesium oxide board into wall decorative field. The core board is an environmentally friendly, high strength non-structural wall and ceiling panel. Panels are manufactured using fiber cement calcium silicate board or magnesium oxide board, MgO board as substrate board and solid color, marble stone texture colors, wood grain colors wearable UV coating on the surface. The panels contain no asbestos, no VOCs or toxins, no formaldehyde, anti bacteria, easy to install and safe to use. It is very light, with less than 10 kg per sheet, each sheet full size is 1220*2440*6 mm, by dry wall installation, it can be quick and easy fixed on the wall.

Feifan wallboard is available for various marble texture, wood texture, solid colors, metallic colors,, it is ideal for architect or designer to make the space elegance and luxury in ares of interior and exterior wall system, wall cladding or wall partition, such as cleanroom wall system, hospital, lab, laboratory, public area like stations, airport, tunnels, metro platform, shopping mall, school, office, home, bathrooms, showers,laundries, kitchens etc.
Installation methods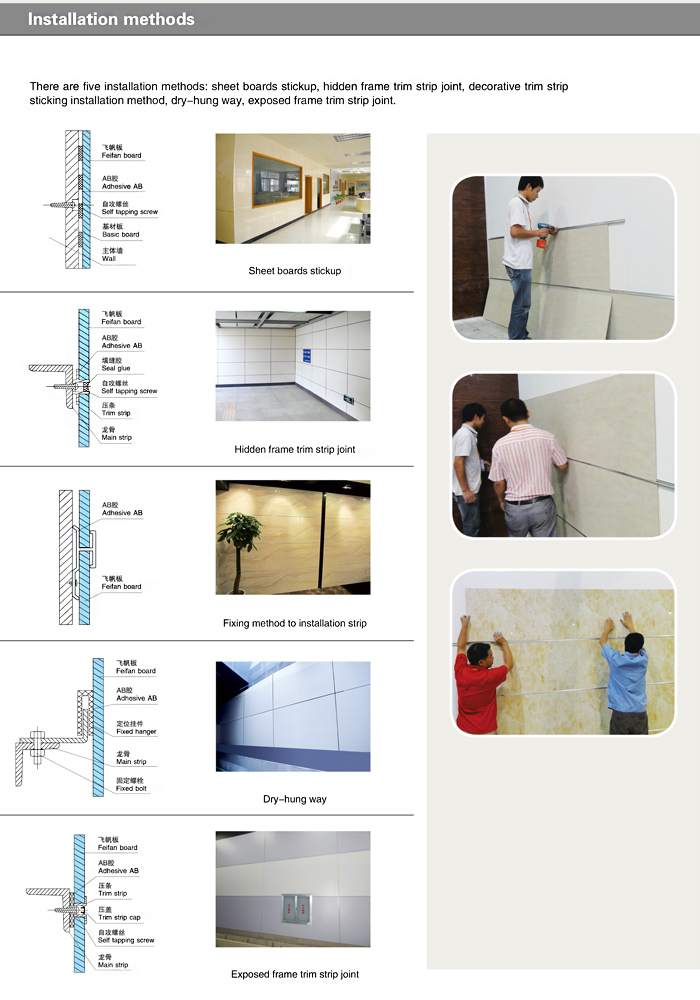 Installation accessories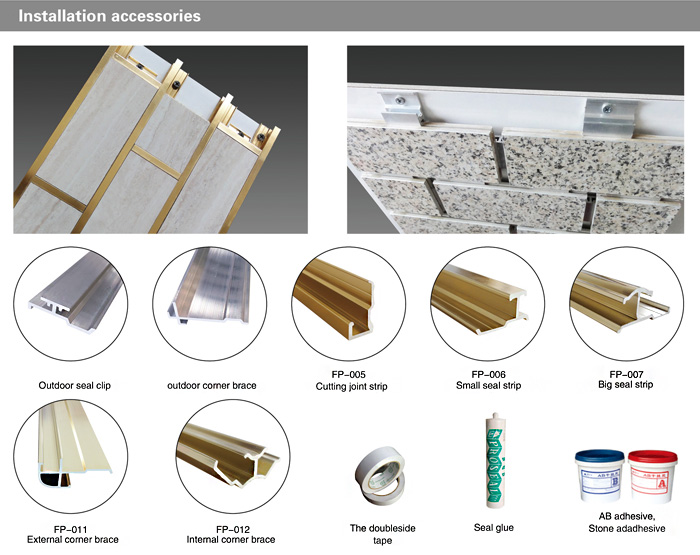 Packing on container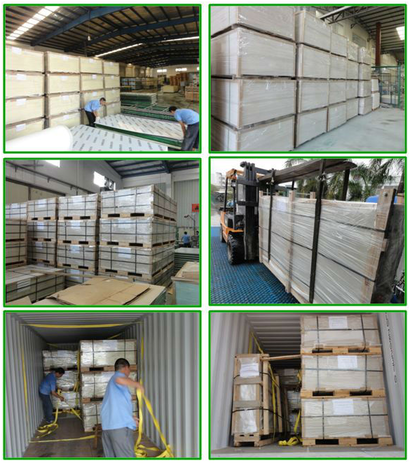 FAQ:
Q1: Are you a Manufacture Factory?
Answer: Yes. We are the direct Manufacture Factory, and my factory is experienced in producing fireproof wall panels for ceiling and wall system since year of 2004.
Q2: Do you have stock products to sell?
Answer: No, we produce products accorded to the customer`s order requirement. It also means colors or design, material, density, size,quantity will depend on what your need.OEM orders always be welcomed.
Q3: Does the plastic protect film can be printed a LOGO?
Answer: Yes, we can print the logo as your requirement .
Q4: What advantages do you have?
A: We are the first Manufacturer in this kind of pre-painted fiber cement wall panels in China, we have much of acknowledge, skills and experience in the manufacture, we could offer you the most competitive price.
B:We are the Factory, and we have the ability to carry out production schedule for punctual delivery.
C:We could make any size according to your requirements.
D: We can provide free samples for quality evaluation
Our Services
1. OEM service is available.
2. Fast producing time.
3. Reply promptly within 24 hours, at your service.
Free samples are available.
Feifan wooden grain design wall cladding, using no asbestos fiber cement board, fiber calcium silicate board, coated with wooden grain texture finishes. The dry wall cladding systems are designed to work for a large variety of wall decoration projects, simple residence or commercial buildings, please select from the color options from our collection. Or contact with me should you have additional questions or items you would like to discuss in further detail.